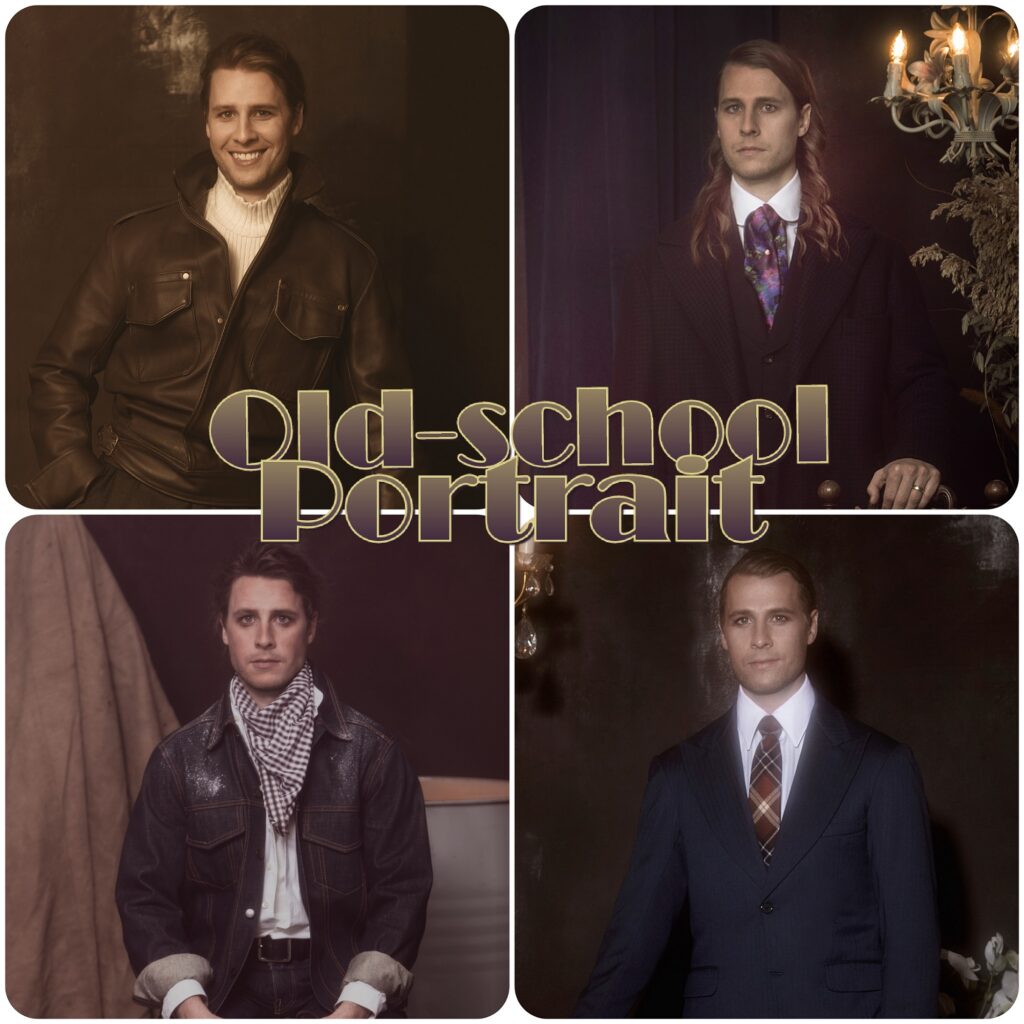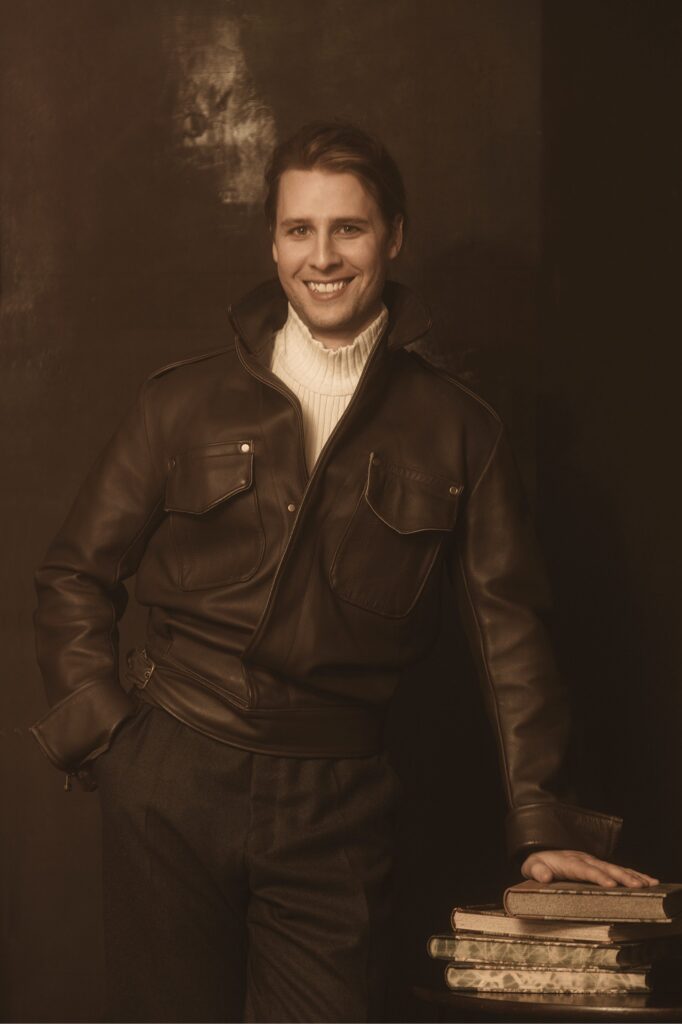 Passion: Old-school Portrait – is our Bespoke Era 2024 Winter collection. We made it in dark colours and layers, with combination possibilities in mind.
Pages taken from a history book. Combined with dark and crispy-cold winter nights…
---
Photo: Jeanette Philipsen – Model: Alexander – Hair & Styling: Line Bomholt / Bomholt Intercoiffure – Silk Print Design: Louise Persson – Tailoring: Sten Martin
---
The Pilot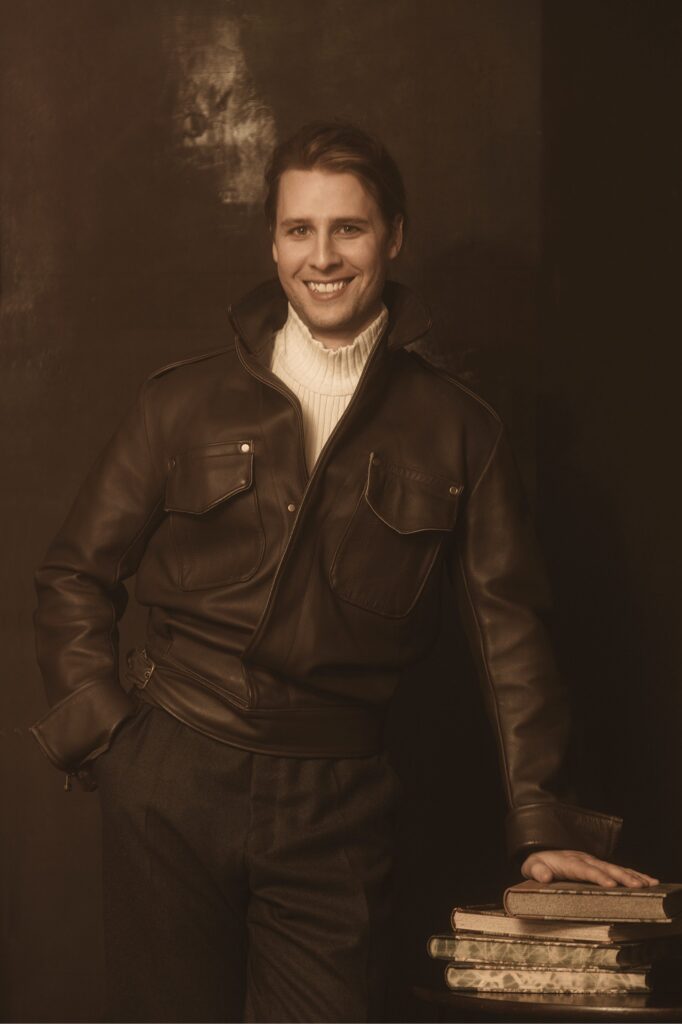 This portrait is believed to been taken ca. 1935-1945. The pilot's name is Alexander and he's wearing his Sten Martin bespoke outfit for aviators. A custom-made leather jacket, hand-stitched off-white wool sweater and a pair of flat-front heavy weight wool trousers.
The outfit is sturdy and made for activity. And it will also keep you warm in windy and cold conditions.
---
The Gentleman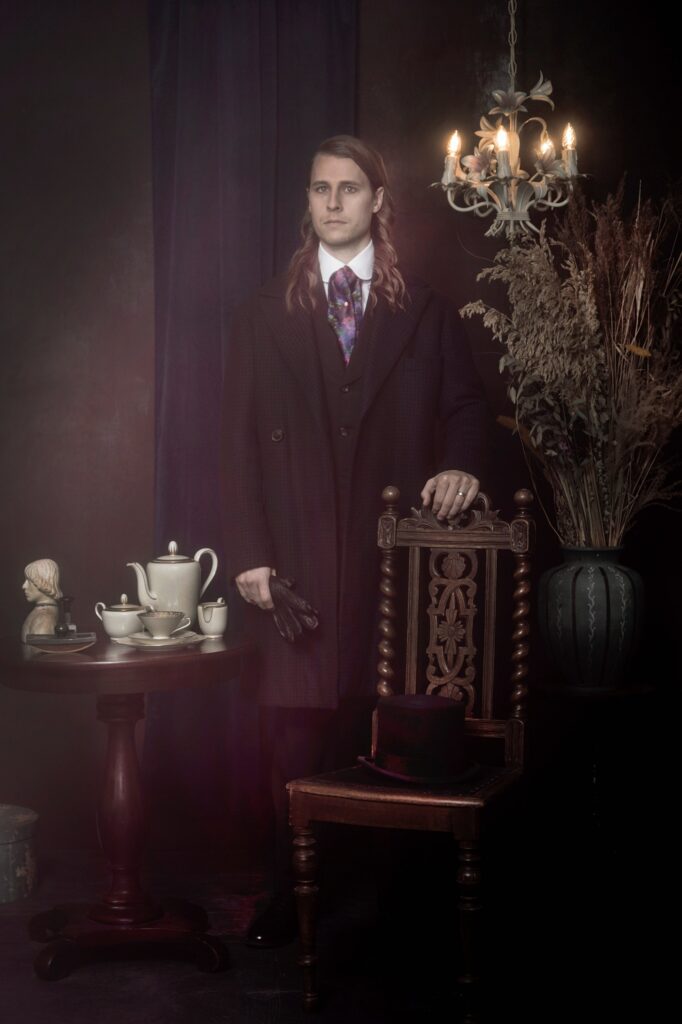 This portrait is believed to been taken ca. 1870. The gentleman's name is Alexander and he's wearing his Sten Martin bespoke outfit for social calls. A custom-made navy colored wool overcoat lined with a hand-quilted black silk fabric, a bespoke black wool suit with a crisp white cotton shirt with detatchable collar and cuffs underneath, and topping off with a printed silk cravat secured with a pearl pin. His outfit also includes his top hat and leather gloves.
The outfit is heavy and warm, but also – of course – layered for adjustment posibilities, into the just right and desiered temperature while making calls and/or visiting friends.
---
The Denim Worker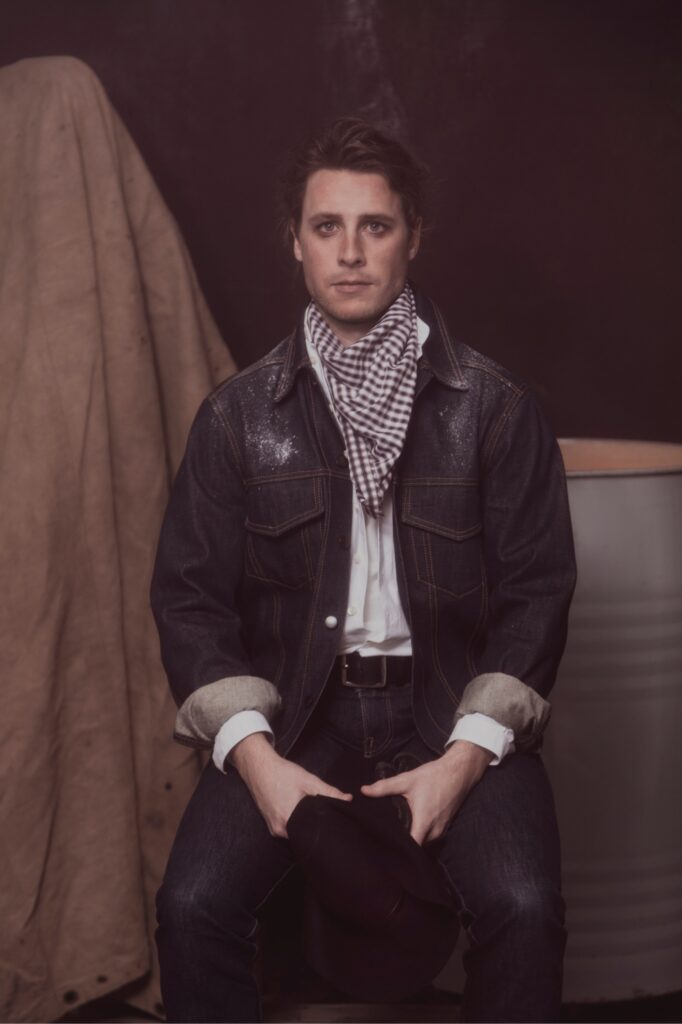 A portrait photograph of a denim worker, believed to be taken ca. 1850. Our research says that his name was Alexander, but we're not really sure. He's wearing a traditional worker's outfit, possibly made by the workers' tailor Sten Martin. He wears a pair of heavy-weight denim trousers, jeans, and jacket, a durable cotton shirt, a cotton undershirt and a cotton protective wild rag and a leather belt. He also holds his soft felt hat in his hands.
These garments would be very durable and made to be protective – wich of course was important since they would be used for hard labour over and over again, for years and years. Focus would be on absolute good quality fabric and seams acordingly.
---
The Gift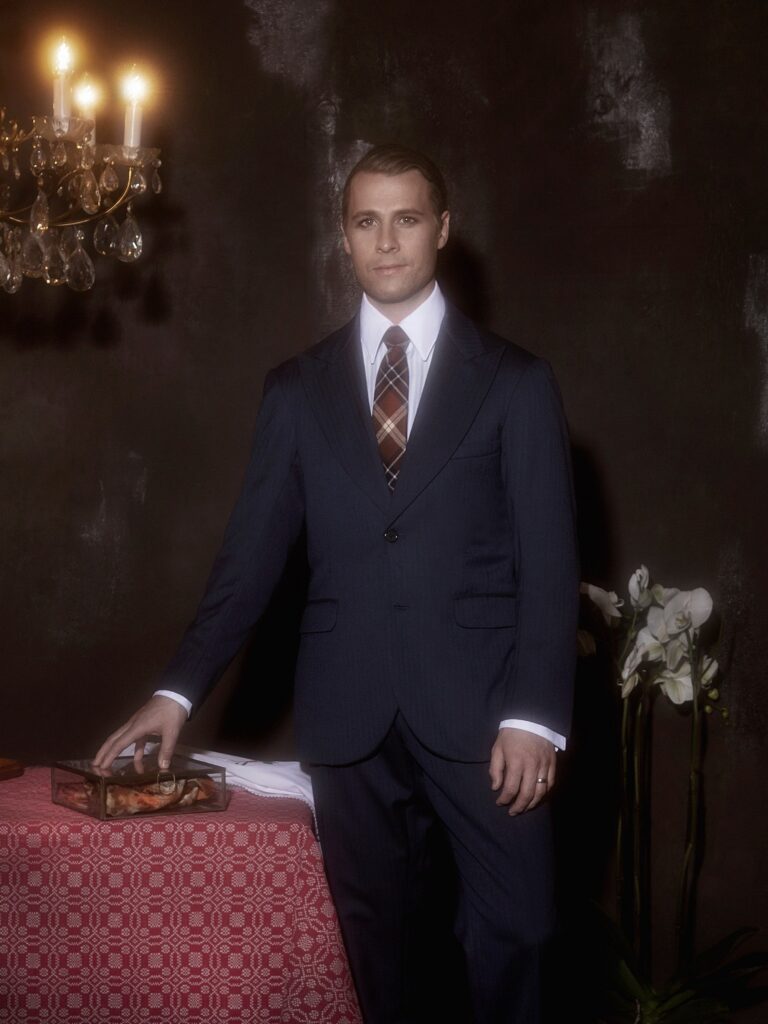 A holiday portrait of Mr. Alexander taken ca. 1940.
He wears a classic navy blue lightweight wool business suit, a white cotton shirt with detachable collar and cuffs, and a plaid brown wool necktie.
He can be seen presenting an exclusive gift in a classic pose, used in paintings for centuries, to diplay a meaning of wealth and knowledge. The gift is a printed silk scarf in a protective glass covering.
---
Photo: Jeanette Philipsen – Model: Alexander – Hair & Styling: Line Bomholt / Bomholt Intercoiffure – Silk Print Design: Louise Persson – Tailoring: Sten Martin
---